Current issue
read more
Submit article
News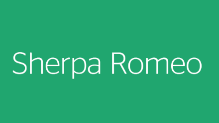 25.11.2021
The Journal «Bulletin of Rehabilitation Medicine» Has Been Accepted for International Database «SHERPA RoMEO»
On November 24, 2021, the editorial policy of open access to scientific publications and the archiving policy of the journal "Bulletin of Restorative Medicine" was confirmed by the International Database of Publication Policies "SHERPA/RoMEO".
RoMEO is a database that collects information about publication ethics and editorial policy of the publication, in connection with archiving articles on the web and in the open access repository.
This project is implemented by the University of Nottingham (UK) in cooperation with international partners, includes data on more than 22,000 scientific journals. RoMEO is part of the Sherpa Service (Securing a Hybrid Environment for Research Preservation and Access/Rights Metadata for Open Archiving).
The ROMEO list contains peer-reviewed scientific journals and periodicals.
The editorial policy of our journal can be found at: https://v2.sherpa.ac.uk/id/publication/40481